It's a great question. It seems ludicrous to watch grown men act out in such an infantile manner.
But soccer goal celebrations have an entertaining habit of being diverse, packed with meaning – all the way down to downright wacky.
But let's start at the beginning. Soccer always had a stigmatism regarding the players taking part and them lacking the required physicality to take part in other sports perceived to require more brawn. To put it shortly, soccer players were thought to be weak and with players in Europe and Latin America rolling around on the pitch after the merest of contacts – there was plenty of evidence.
So then seeing a soccer player in the wild throes of ecstasy after scoring a decisive goal, only for them to start sucking their thumb?
Well, the beginnings go back to 1994 – and to the USA!
USA 94 – and Diana Ross
World Cup 1994 had got off to a bang – well, the goalposts actually exploded, but Diana Ross missed the three yard spot-kick that was wired to softly blow up the goalposts when the ball crossed the goalline. Seeing as the singer missed with her effort, the organisers didn't want the tournament to get off to a misfiring start, they blew apart the goal anyway.
And from there, the World Cup REALLY began.
And serial entertainers, Brazil, were in the mood to party on the pitch too. And the Samba boys did lift the famous trophy, but one moment in time sparked off the sequence of goal celebrations for a certain reason.
Where Did This Start?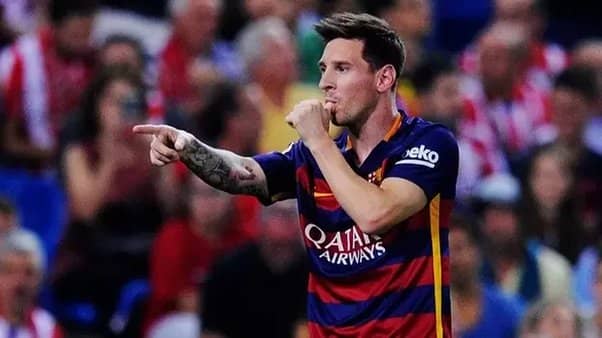 That is, when a player's wife is expecting a child.
The man to start it? Brazil striker, Bebeto.
After netting for his country, he and two others carried out an orchestrated celebration where they mimed rocking a baby, as Bebeto's wife was carrying his child.
And from there? We've had an evolution of soccer players attributing goals to their newly born and unborn children.
Sucking their thumb is just one of them – and two players really helped to put the celebration into the consciousness of major soccer players across the world.
Firstly, the sucking thumb celebration is chiefly attributed to Italian club Roma legend, Francesco Totti. Totti was a rare commodity in football – a one club player. Totti never strayed from Roma and is now a club icon. And the legendary forward was also remembered for sucking his thumb when scoring – and he did so whenever his wife was in the parental way.
The other player who was responsible for spreading this goal celebration was Luis Garcia, formerly of Liverpool. When the red team of Liverpool famously won the Champions League of 2004/05, the campaign will most likely be remembered for their incredible comeback win in Istanbul, eventually winning over Italian giants AC Milan on penalties after coming back from three goals down.
Also read: How the US Began To Embrace Soccer
The Ghost Goal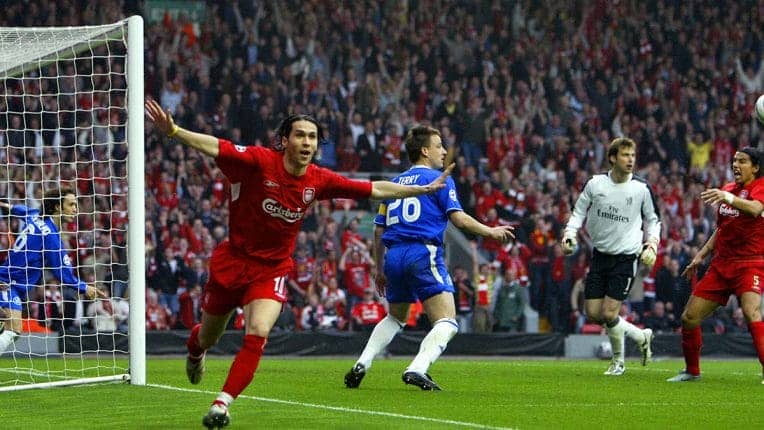 But in the semi-final, they defeated domestic rivals Chelsea 1-0, thanks to one of the most controversial goals in recent times. And Spaniard Luis Garcia scored it – or did he? Garcia poked the ball toward the line from close range and wheeled away to celebrate just as Chelsea defender William Gallas cleared the ball – but had it crossed the line? Video replays suggest the ball hadn't – but Garcia was tearing away, with his trademark thumb in his mouth to celebrate a decisive goal that would eventually lead his side to be crowned Champions of Europe.
It's moments like that, that will really embed themselves into the consciousness of the world.
And since then? We've had some incredible celebrations – and even evolving celebrations that herald the impending birth of a child.
Now, we have players not only sucking their thumbs, but they now smuggle the football under their shirt to imply a pregnant stomach – something Spaniard Alvaro Morata and Polish hotshot Robert Lewandowski have done in recent years.
But if we're talking celebrations, then there's some that are truly iconic.
Lost in a Moment
First up, Italian striker Fabrizio Ravanelli. The man dubbed 'The White Feather' for his trademark white hair, the striker was known for scoring, then pulling the front of his shirt over his read before running around the pitch, arms outstretched. This has since been copied by every schoolboy and schoolgirl after scoring a goal in the playground.
Next up is England striker Peter Crouch. Crouch isn't your average striker – in fact, he is probably amongst the tallest players to play professional football. Despite his unconventional size, Crouch is known across the world for his now famous 'robot' celebration, which he showed off during a World Cup tournament in the white shirt of England. Crouch has since retired but in public he has since told the media, that he is always requested to bust out the move.
Also read: What to Eat Before Soccer Game?
Who's Behind the Mask?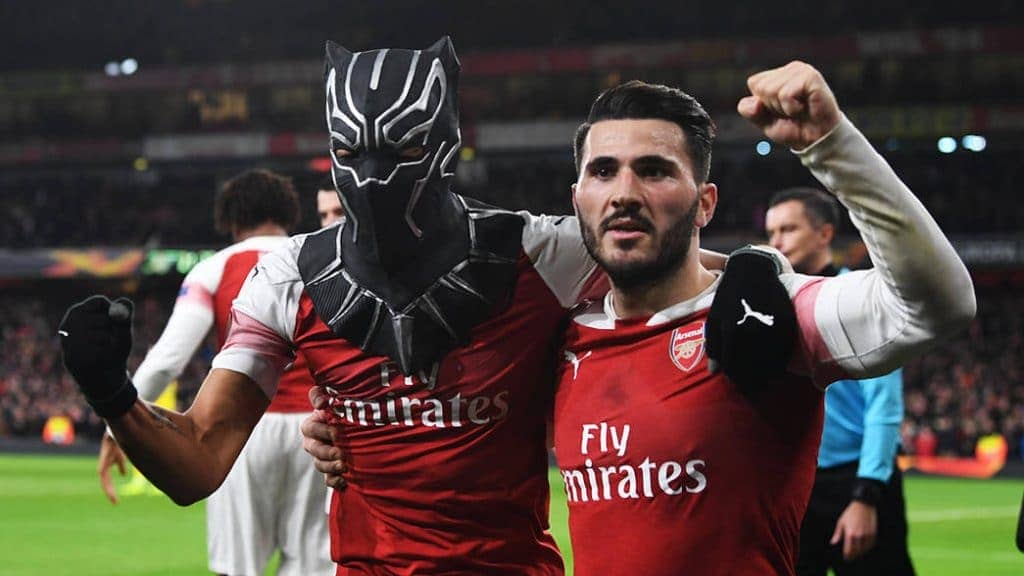 Another famous goal celebration is that of Pierre-Emerick Aubameyang. The striker, now at Barcelona, but formerly of Arsenal and Borussia Dortmund, rode the crest of the Marvel film, Black Panther. He did so by scoring a goal, fishing a Black Panther mask out of his socks and then crossing his arms in the Wakandan salute.
Donning a mask has always been a favourite. Former Fulham striker Facundo Sava was well known for wearing a Zorro mask when scoring, Raul Jiminez of Wolves (formerly Benfica) has worn a luchador mask and others have worn wolf masks, spiderman and other famous masked hero trademarks.
But it isn't just restricted to masks if you're planning your own famous celebration. Soccer players have quite the imagination too.
Wild Celebrations? Say Hello to Gazza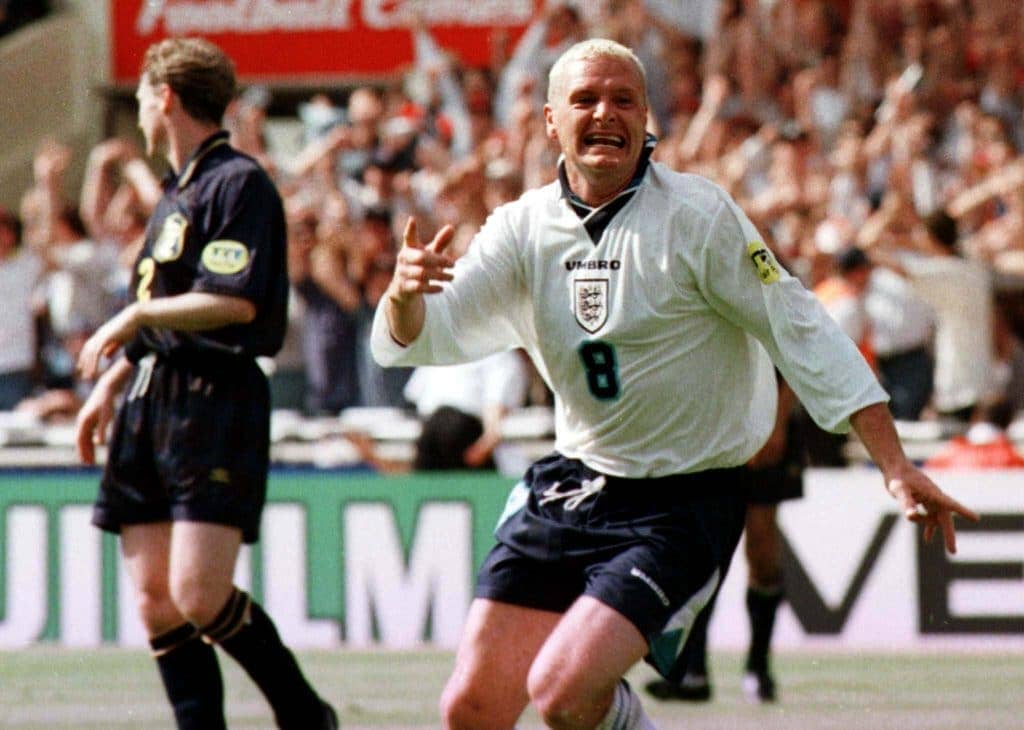 Step forward a certain Paul Gascoigne.
The man so good he was known by one name, Gazza, had two celebratory moments that are forever encapsulated into fans memories.
The first? In the white of England, at Euro 96. The tournament was being played in England and they were playing Scotland – the oldest match in the world. So you could say it was a pretty big occasion. And Gazza sent England fans into raptures when he sent Scotland defender Colin Hendry to the turf and crashed a volley into the Scotland net to cement a 2-0 win. His celebration? He raced to the corner of the pitch, put himself on his back and stretched out his arms, before his teammates grabbed water bottles and squirted him in the face. The explanation is that the England squad had a training camp before the tournament and they had a drinking game called 'The Dentists Chair' which was what Gazza and his teammates were recreating.
And his second goal celebration? Well, Gazza was enjoying a career renaissance after leaving Lazio, in Glasgow, for the blue of Rangers. He was a hero there and his connection with the fans was very strong. So strong, that he crossed a line.
Also read: Where Does MLS Rank in World Soccer Leagues? 
Crossing a Line
The Old Firm derby between the Glasgow teams of Celtic and Rangers transcends the sport. It is much more than football, it divides families, societies and workplaces. And so when the match is played, there is a cauldron of atmosphere across the city. And during one such derby, after scoring, Gazza simulated playing the flute. This doesn't sound like much, but to Celtic fans it is like a slap in the face.
The divide between the blue and green teams of Glasgow began in religion and the Protestants and the Catholics. And the flute is a symbol of the Orange Order flute band, an icon of the Protestant side of the religion. Gazza realised he had made a huge error and even later admitted that he feared for his life.
Goal celebrations – such a frivolous act, but with the soccer players performing them in the eyes of millions, they can have such a huge impact.
Another player who got into hot water after an over-zealous celebration was Liverpool striker, Robbie Fowler. The striker so good the fans named him 'God,' scored a goal back in 1999 in the EPL, during a Merseyside derby against Everton. Fowler dropped to his knees on the touchline, where the white paint was, and simulated sniffing up a banned substance.
Needless to say, Fowler was pulled in front of a disciplinary committee soon after.
But if we cut to the essence of a goal celebration, the moment is as pure as can be in emotional terms. The rush of endorphins could be overwhelming – and that would certainly lead to an unwise goal celebration or two.
But these moments of unfiltered joy are recreated across the world, so let's hope the players continue to mimic, impersonate and simply let fly with their imagination when the soccer ball hits the net.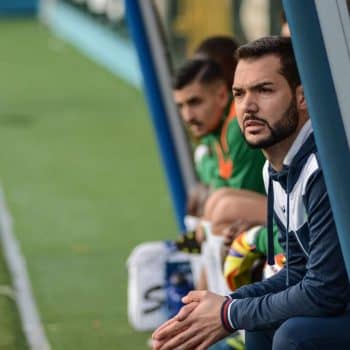 Latest posts by Manuel Esposito
(see all)