As a lifelong soccer enthusiast, I've always been captivated by the beautiful game and its ability to bring people together from all walks of life.
One nation that continuously catches my eye is Algeria, with its passionate fan base and undeniable talent on the field.
I can't help but wonder – what makes this North African powerhouse so good at soccer? Intrigued by this question, I decided to delve deeper into the factors contributing to Algeria's prowess in the sport.
From a rich football history and strong domestic league to high-quality training facilities and international collaboration, it quickly became apparent that there are several key elements at play here.
So let's take a closer look at why Algeria has not only managed to excel in soccer but also capture our hearts along the way.
In a hurry? Here's a quick & short answer that'll definitely help you out!
Algeria's prowess in soccer stems from a blend of passion, talent, and infrastructure. Their success is fueled by the nation's intense love for the sport, a wealth of skilled players, and considerable investments in training and development programs. This blend of factors creates a soccer culture that consistently delivers strong performances.
A Rich Football History
You might not realize it, but the nation's rich football history plays a massive role in their undeniable prowess on the pitch.
Algeria has been home to numerous football legends who have left an indelible mark on the sport, inspiring generations of fans and players alike.
Algerian football has continually produced exceptional talent, from Lakhdar Belloumi, who was named African Footballer of the Year in 1981, to Rabah Madjer.
Whose famous backheel goal against Bayern Munich in the 1987 European Cup final is still remembered.
One must discuss Algeria's success by mentioning its historic victories at both regional and international levels.
The national team had won two Africa Cup of Nations titles – one in 1990 when they hosted the tournament and another in 2019 under manager Djamel Belmadi.
These triumphs highlight Algeria's ability to perform at the highest level against some of Africa's strongest teams.
Moreover, they have also made four appearances at FIFA World Cups, with their best performance coming in 2014 when they reached the Round of 16 for the first time.
Beyond individual talents and competitive accomplishments lies a deep-seated passion for soccer among Algerians, driving them toward excellence on and off the field.
Algeria's love of football dates back to the country's fight for independence from France, when it served as a unifying force in the face of colonial oppression.
Throughout history, Algerian soccer has continued to unite people from different backgrounds under a standard banner of pride and achievement.
Fostering an atmosphere where everyone feels they belong regardless of personal circumstances or social status.
This strong sense of identity and belonging has paved the way for Algeria's continuous growth as a formidable force in world soccer.
Related: Is Soccer More Popular Than Football?
Passionate Fan Base
It's no secret that a passionate fan base plays a huge role in fueling the success of their beloved national team!
Algeria is no exception, with fan dedication and stadium atmosphere as two significant factors contributing to the nation's soccer success.
The Algerian supporters, affectionately known as 'Les Fennecs,' have a reputation for creating an electrifying environment during matches that motivates their players and intimidates opposing teams.
The passion and loyalty exhibited by Algerian soccer fans are deeply rooted in the country's history and culture.
In Algeria, soccer has long been seen as more than a recreational activity; it serves as a unifying force for people of all backgrounds.
This unity and shared love for the beautiful game translates into unwavering support for the national team, even during tough times or underperformance.
As any seasoned soccer player will tell you, knowing that your fans have your back can make all the difference on the field.
Another reason why Algeria excels at soccer is that they have managed to harness this fan energy and channel it into tangible results on the pitch.
A strong connection between players and supporters creates an almost symbiotic relationship, with each side drawing strength from one another in pursuit of victory.
It's common to see Algerian players celebrate goals by running toward their adoring crowd, acknowledging their vital role in propelling them to greatness.
Thus, having such a fervent fan base inspires and motivates Algerian soccer stars to strive for excellence – ultimately leading to their continued success on the world stage!
High-Quality Training Facilities and Programs
What's the secret behind their consistent performance? Top-notch training facilities and programs are crucial in shaping Algeria's soccer success story.
Facility funding from government and private entities has enabled the country to develop state-of-the-art infrastructure essential for nurturing young talents.
Moreover, program accessibility has been a critical factor in reaching out to promising players at an early age, ensuring that they receive adequate guidance and support throughout their journey.
One of the primary reasons for Algeria's prowess on the soccer field lies within its comprehensive youth development system. This includes academies such as Paradou AC, known for producing some of the nation's finest talents.
These institutions employ modern teaching techniques combined with rigorous physical conditioning to prepare upcoming stars for future challenges both on and off the pitch.
Furthermore, collaborations with international clubs like Manchester City offer Algerian students unique opportunities to learn from some of the best professionals in the sport.
As we delve deeper into Algeria's soccer landscape, it becomes apparent that solid emphasis is placed on fostering a competitive environment.
Regular national competitions across various age groups serve as platforms for young players to showcase their skills while gaining invaluable experience against tough opposition.
Algeria prepares its athletes for the high stakes of important international matches by often placing them in high-pressure circumstances early in their careers.
The combination of world-class training facilities, programs, and strategic partnerships exemplifies how Algeria has remained a powerhouse in African soccer over time – inspiring fans worldwide through exceptional performances on the field!
Related: What Size Soccer Ball For 9-Year-Olds: Choosing The Right Ball
Strong Domestic League
A robust domestic league also contributes to the nation's soccer success, with fiercely competitive clubs battling it out on the field and nurturing top-notch talent.
The Algerian Ligue Professionnelle 1 is a prime example of this, boasting a solid league structure that ensures parity among its participants.
Strict restrictions and financial investments in infrastructure development, youth academies, and scouting networks create this equal playing field.
As a result, Algeria has consistently produced talented players who have gone on to make their mark both domestically and internationally.
Another factor that sets the Algerian domestic league apart is its commitment to promoting homegrown talent.
With an emphasis on developing local players rather than relying solely on imports, teams can maintain a strong sense of identity while fostering connections between fans and their communities.
This approach not only creates more substantial fan bases but also allows for more excellent continuity within club systems.
Something that translates well when these players represent their national team in international competitions.
The passion of Algerian soccer fans cannot be understated either; they are some of the most dedicated supporters in the world.
These fervent devotees provide unwavering backing for their club teams and national squad at every match – rain or shine.
By creating an electric atmosphere in stadiums and beyond, this ardent support undoubtedly drives players to perform at their best, instilling them with pride as they don Algeria's colors each time they step onto the pitch.
In doing so, these fans play an integral role in ensuring that Algeria remains a force to be reckoned with on soccer's grandest stages for years to come.
International Influences and Collaboration
In today's interconnected world, it's no surprise that international influences and collaboration have significantly shaped Algeria's soccer prowess.
Global partnerships have allowed Algerian players to learn diverse techniques from the best coaches and leagues worldwide.
These collaborations have enhanced their skills and broadened their perspectives on how the sport is played at an elite level.
Many Algeria So Good At Soccer have been part of top European clubs like Manchester City, Napoli, and FC Porto, allowing them to compete against the best players in the world.
Playing in Europe exposes Algerian athletes to different styles of play and coaching philosophies, helping them develop a more comprehensive understanding of the game.
The success of these players abroad has inspired other young talents back home to follow in their footsteps and strive for greatness.
The influence of international collaboration is most evident when observing Algeria's national team performance.
Having players with experience competing at high levels across various leagues contributes significantly to their ability to adapt during matches.
Furthermore, having an internationally renowned coach like Djamel Belmadi at the helm highlights how global connections can help elevate a nation's soccer program.
Belmadi himself has experienced playing in France, England, Spain, and Qatar before transitioning into his successful coaching career.
The continuous exchange of ideas between local talent and foreign expertise is vital for any nation seeking to excel in soccer – or any sport, for that matter.
As such, it is clear that Algeria's prowess on the pitch owes much credit to its openness toward embracing international influences and fostering collaborative relationships worldwide.
This will benefit individual players and strengthen Algeria as a whole by fostering unity among its people through a shared love for this beautiful game.
Related: What Are 5 Goals In Soccer Called – The Ultimate Guide
Talented Players and Coaches
You can't underestimate the impact of having exceptional players and coaches on a team, as evidenced by Algeria's impressive 29-game unbeaten streak between 2018 and 2021.
A combination of player development and innovative coaching strategies has led to the rise of Algerian soccer in recent years. Investing in academies, scouting local talent, and nurturing young players have created a solid foundation for success.
One way to appreciate Algeria's talented roster is through an overview of some key players:
| Player | Position | Club |
| --- | --- | --- |
| Riyad Mahrez | Winger/Forward | Manchester City |
| Ismaël Bennacer | Midfielder | AC Milan |
| Ramy Bensebaini | Defender/Left Back | Borussia Mönchengladbach |
| Baghdad Bounedjah | Forward/Striker | Al-Sadd SC |
| Sofiane Feghouli | Midfielder/Winger | Galatasaray SK |
These individuals bring their unique skills and experiences from playing in top European leagues, strengthening the national team's performance.
Moreover, Algeria boasts experienced coaches like Djamel Belmadi, who has successfully implemented his tactical vision into the squad.
His keen understanding of his players' strengths and weaknesses allows him to create compelling game plans that maximize their potential.
The unity within the Algerian national team is truly remarkable – a testament to individual talents and collective efforts working harmoniously toward common goals.
This synergy is evident on and off the field as fans rally around their beloved squad with pride and passion.
By investing in player development and embracing progressive coaching strategies, Algeria has built an impressive footballing force that stands tall among its peers on the world stage.
A fitting representation of what can be achieved when talent meets determination underpinned by unwavering support from all involved.
Conclusion
In conclusion, it's no wonder Algeria is so good at soccer. Their rich football history, passionate fans, top-notch training facilities, strong domestic league, and international collaborations have all played critical roles in their success.
In the immortal words of Julius Caesar, "Veni, Vidi, Vici" – a sentiment that embodies the relentless spirit of Algerian soccer.
With their talented players and coaches leading the charge into the future, there's no telling what heights they'll reach next.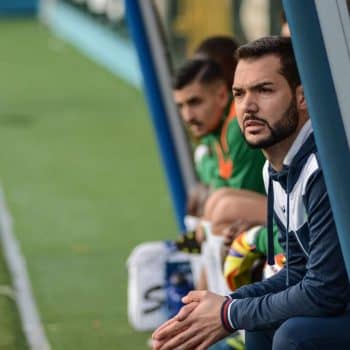 Latest posts by Manuel Esposito
(see all)