What's in a name?
Well, in soccer…plenty.
Consider a few points. Firstly, soccer is a game of tradition. There are official rules in the game that still exist from the very day the game was formally created, way back in 1863.
Secondly, the teams that are around now? They largely go way back too. And in that time, aside from the odd venue change, things have been maintained. Club colors. Club location.
Club Name
The founding clubs of those first few years of soccer? Many still exist and have retained their names too. Nottingham Forest and Notts County, Crystal Palace, Sheffield United and Sheffield Wednesday, Preston North End and Blackburn Rovers to name a few – and not one letter has changed.
There are exceptions of course.
Manchester United, perhaps the most famous club in the world, were not always known that way. The Red Devils were once known as Newton Heath. They weren't even red either – instead, they sported a yellow and green combo. This happened way back in 1902.
Arsenal, another very famous club, has had a few name changes. They started out as Royal Arsenal. They have also been known as Dial Square, Woolwich Arsenal, and now? Just the Arsenal.
But, these are exceptions. Soccer clubs have powerful ties to their respective fanbases, so the traditions of each club are a matter of pride to each and every fan. Anything opposed to that is met with vociferous opposition. Fan protests, banners, walkouts – you name it, supporters have done it in protest to something they disagree with.
And as the sport changes in a big way, thanks to the massive amounts of money that are swilling around, ownership of soccer clubs has become a lucrative business. That, in turn, has attracted owners that aren't exactly well versed in soccer.
These businessmen and women are experts in one thing – making more money. And as TV rights, merchandise and sponsorships rise without a ceiling – it means owners look to cash in and rake back their investment – and more.
But any owner who does not put the club first and its DNA? Then the fans rise up as one.
Cardiff City. Newcastle United. Leeds United. Southampton. Charlton Athletic. Arsenal. Liverpool. Aston Villa. There aren't many big clubs that haven't seen some form of resistance to new ownership in some form in the last two decades.
The first club in the list above, Cardiff City, provides a great example of supporters forming together to voice their displeasure at change. The new owner at the time, Vincent Tan, changed the clubs' color from blue (which it had been from its first year back in 1902) to red. There was no mercy from Tan, who also changed the club crest from a bluebird to a red dragon.
And the fans did not rest until this was set back to the original. Three years later, Tan admitted defeat and issued an apology to the fans. Cardiff was blue once again.
So, a name matters. It is the clubs' identity. It is part of how the fans identify themselves. There are 14 teams in Europe who call themselves 'United.' And for those that do, the familiar chant of 'United, United, United' can be heard from their respective stands.
That name was first used back in 1889, for Sheffield United FC. And the club still exists today.
But why choose United? There are plenty of others to choose from.
Let's investigate what it actually means.
The dictionary lists the meaning in two ways. First, it can mean 'combined.' And secondly, it can also mean 'harmonious.'
So it's easy to see why there can be some confusion. Many people believe that the clubs that have the United name, were born from a coalition between two clubs. And that is the case in some examples. Newcastle United were at one point, two clubs. The same goes for Rotherham United and Torquay United and a few other lesser-known teams.
But overall? Clubs with the United name have taken the second meaning. Harmonious. A team working together to achieve glory.
And in Manchester United's case, that has worked pretty well, aside from the last few years.
But the name of a club is entrenched in the beginnings of a club.
Arsenal are named this way because they were created in the Royal Ammunition factory in Woolwich, an area called Woolwich Arsenal.
And clubs with the word 'Athletic' in the name, were usually formed by some form of an athletic club.
There's a LOT of suffixes
There is Albion, Alexandra, Argyle, Athletic, City, County, Dons, Forest, Harriers, Hotspur, Orient, North End, Palace, Rangers, Rovers, Stanley, Town, United, Villa, Vale, Wanderers, and Wednesday.
Interestingly, the Wednesday in the club's name 'Sheffield Wednesday' came simply from the day of the week the former cricket club used to play on.
But let's rewind a little.
The first club to use the word 'United' were Sheffield United. And they actually existed, albeit in a very different form, thirty-some years previous.
They actually began as a cricket club. Not a soccer ball to be seen, instead, it was bats, wickets, and helmets. And Sheffield United Cricket Club before that came into being by combining a number of different cricket clubs in the area, to create a larger cricket club.
So United by name, United by nature.
They were the first. The trendsetters. And as is shown by the sheer number of clubs who share the name now, they were copied by plenty.
Newcastle United deserves an honorary mention too when it comes to carrying the United name before all else. They were formed by two clubs 'Uniting' – Newcastle East End and Newcastle West End. This happened in 1892.
And Leeds United was formed in 1919 from the ashes of another club in the city, appropriately titled Leeds City FC.
It most definitely began in England – but it has been taken on and adored elsewhere too.
Also read: Fastest Soccer Players In The World
Take a look at the MLS
MLS Cup winners Atlanta United. The club isn't even ten years old, but already a championship under their belt, as well as a mightily impressive stadium – always packed to the rafters with adoring support.
DC United, Minnesota United – the MLS has picked up on the name and ran with it. But these clubs were named with the idea of an entire area, uniting as one. Fans, players, staff, pushing for success.
And in fifty or so years, if money hasn't swallowed the entire sport whole, these fans will still be embracing their United team.
Almost as important as a name, is the nickname.
Clubs are known by a variety of monikers in England.
Chelsea are the Blues (not very imaginative seeing as they play in blue).
Liverpool are known as the Reds (again, they really had to think hard on this one, because they play in red).
Arsenal are the Gunners (their crest is a cannon).
United are the Red Devils (their crest is a red devil).
It matters so much that, when Sunderland decided to change their nickname back in 1997, the response was impressive. They were forced to change their nickname as their former name, the Rokerites, came from their former ground – Roker Park. When they changed the stadium to the Stadium of Light, they needed a new nickname.
So now, they are called the Black Cats.
And there are some really strange ones too.
Wycombe Wanderers are known as The Chairboys (because the tradition of chair making came from the town.)
Southend United are called the Shrimpers (because of the thriving seafood trade).
Everton are called The Toffees (due to a famous form of toffee hailing from this area of Merseyside).
There are plenty more where that came from. As you cast your net wider around the globe, the list of strange soccer club names becomes bizarre.
Crab Connection from Trinidad and Tobago.
Triangle United FC from Zimbabwe
Accra Hearts of Oak FC from Ghana
And perhaps, the winner…
April 25 Sports Team from North Korea.
A name matters plenty. And United goes way back to the 1800s. If the above team from North Korea lasts that long, it might just become fashionable…
What's in a name?
Well, it goes way back.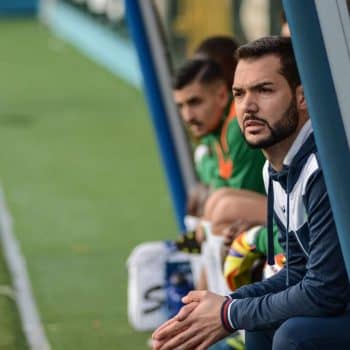 Latest posts by Manuel Esposito
(see all)