What is the best age for a person to start learning a new skill? That is a difficult question, but a lot of people would say that we learn new things during our whole lives. But if we modify this question a bit, and ask when should a person start training some sport, lots of people would agree that it should be done at an early age.
One would say that if you want to become a professional, successful athlete, you should begin around the age of 10, or maybe even earlier.
Here is a list of 15 players that would disagree.
15. Carlos Salcido
The former Mexican international started his professional career playing for the Mexican side, Guadalajara. He made his debut in 2001, at the age of 19.
After playing for Guadalajara for 6 years, he was noticed by PSV Eindhoven's scouts. He signed for the Dutch side in 2006, after the World Cup, when he was 26 years old. Salcido became one of their key players, spending 5 years in the Netherlands and playing 121 games for PSV.
Under the guidance of Ronald Koeman, he played in 33 out of 34 games in his debut season. He was the first Mexican player that won the Eredivisie, and was also later named the vice-captain of the team.
He made 121 appearances for the national team, and his biggest success was winning a gold medal in the Summer Olympics in 2012.
14. Junior Messias
Just 3 years ago, Junior Messias played in Italian Serie D. He had to find an extra job to provide additional income, so he worked as a delivery man.
He was playing soccer for Sport Warique, a team made up of Peruvian immigrants. There, he was noticed by Ezio Rossi, an Italian coach who was impressed by his skills, and because of that found a club for him.
Messia signed a €1,500 per month contract with fifth-tier Casale.
In 2019 he signed for Crotone and made his Serie B debut on August 24th. In that season he scored 6 goals for Crotone and helped them move to Serie A.
In 2021, he moved on a loan deal to AC Milan where he already showed his quality scoring some important goals.
His first goal for Rossoneri was in the Champions League group stage against Atletico Madrid on November 24th. The final score was Atletico Madrid- AC Milan 0:1.
Also read: Why do Soccer Players Suck Their Thumbs?
13. Jamie Vardy 
Jamie Vardy was born on January 11th, 1987. Until 2012 he played semi-professional soccer, first for Stocksbridge Park Steels, then for Halifax, and finally Fleetwood Town.
His dream story began in May 2012, when he signed for, at that time, a Championship side Leicester City for a transfer fee of £1 million.
In the 2013/14 season, scoring 16 goals, Vardy helped The Foxes win the promotion to the Premier League.
He made his Premier League debut on August 31st 2014 against Arsenal. On September 21st Leicester won against Manchester United 5:3, Jamie Vardy was named man of the match and ended the game scoring one goal, his first one in the Premier League, and providing 4 assists.
His biggest success with Leicester was in the 2015/16 season, when The Foxes, against all odds, went all the way to the end lifted the trophy leaving Arsenal 10 points behind.
In that season Vardy scored 24 goals and in the 2019/20 season, he was the top goalscorer in the Premier League.
For the national team of England, he played 26 times and hit the net 7 times.
12. Josip Ilicic
Before moving to Seria A, the Slovenian midfielder played for Bonifika, Interblock, and Maribor and all of these clubs come from Slovenia.
In 2010, when he was 22 years old, he signed a contract with Palermo and in 2013 he moved to Fiorentina. He didn't have much success playing in Seria A until he moved to Bergamo in the summer of 2017 for a fee of €5.5m, and started playing for Atalanta.
In his first season at the club, he scored 11 goals and provided 8 assists. The next season, 2018/19 was even better for him.
Atalanta finished 3rd in Serie A and qualified for the Champions League for the first time in their history.
11. Charlie Austin 
Charlie Austin is an English forward who got kicked out of the Reading's youth academy when he was 16 years old.
After that, he played for lower league teams until he was noticed by a scout from Swindon Town at the age of 20. At that time, Swindon Town was competing in League One.
He played 3 seasons there, scoring 31 goals in 54 games. That enabled him to move to Burnley in 2011, a team that was playing in the Championship league. When he was 24, he signed a three-year contract with QPR.
QPR got the promotion to Premier League in 2014, and Charlie Austin scored 20 goals that season.
Even though QPR got relegated from the Premier League next season, Charlie Austin was able to score 18 goals.
10. Luca Toni
Luca Toni is an Italian world-class striker. At an early age, he had played for teams in Serie B and C. When he was 26, he moved to Palermo and played Serie B with them. That was what turned his career in a different direction, he scored 30 goals in Serie B and Palermo was promoted to Serie A.
Next season, as a newcomer, Palermo finished 6th. While Luca Toni had an impressive season scoring 20 goals and proving that he is a top-class attacker.
In 2005/06 playing for Fiorentina he scored 31 goals and became the first player in the last 50 years that has managed to achieve that. He also won the Golden Boot that season.
He played for some world-class teams like Bayern Munchen, Roma, and Juventus.
Luca Toni won the World Cup in Germany in 2006 and was selected in the best XI of the tournament.
Also read: Where Does MLS Rank in World Soccer Leagues? 
9. Didier Drogba
The Ivorian striker signed his first professional contract at the age of 21 for Guingamp. In two seasons for the club, he played 45 games and scored 20 goals.
That was enough for the scouts of Olympic Marseille to notice him. He moved to Velodrome in 2003. While he was playing for Marseille against Porto, he impressed Jose Mourinho, who was at that time sitting on Porto's bench. After the game, Mourinho told him that he will sign him once he moves to a club that can afford to buy Drogba…
Jose Mourinho took over Chelsea and signed Didier Drogba in 2004 when he was 26 years old… The rest is history, Drogba became one of the most important players in The Blues' history.
He won four Premier League titles, four FA Cups, three League Cups, and one Champions League.
For the national side, he is the top scorer of all time.
8. Grafite
Grafite was born in 1979 in Sao Paolo, Brasil. He mostly played for Brazilian clubs.
French side Le Mans signed him in 2006. He stayed in France for 2 years, played 51 games, and scored 17 goals.
Most of us probably wouldn't even know who he was if he didn't sign a four-year contract for Wolfsburg. In his debut season in the Bundesliga, he played 24 games and scored 11 goals.
The season 2008/2009 was magical for Wolfsburg, under the leadership of Felix Magath they were able to raise the trophy in the Bundesliga, something that no one has expected them to do. It was their first and only title until now.
Grafite played a huge role in this success, scoring 28 goals in 25 matches.
7. Edin Dzeko
As a teenager, Edin Dzeko played for Zeljeznicar that was competing in the 2nd Bosnian Division. After that, he moved to the Czech Republic where he was scouted by the Bundesliga team, Wolfsburg.
He signed for Wolfsburg in 2007 and stayed there until 2011. His name is written with golden letters in the club's history alongside Grafite and Zvjezdan Misimovic.
"The diamond's" performance attracted some big names, so in 2011 Manchester City signed him for $37 million. He also played for Roma, and currently, he is a member of Inter Milan.
For the national team of Bosnia and Herzegovina he made his debut in 2007 against Turkey, and since then played 118 games.
Edin Dzeko won two Premier League titles with Manchester City, in 2011/12 and 2013/14.
6. Fabio Grosso
Fabio Grosso is a well-known Italian left-back born in 1977.
We can be honest and say that he was an average player until the year 2004. That was the turning point in his career.
In 2004 he signed for the Sicilian side, Palermo, he was 27 years old. At that time no one could predict that 2 years later he would get a call up for the World Cup, but Marcelo Lippi saw something in him.
The final game of the World Cup in 2006, France on one side, Italy on the other and it went all the way to the end, penalties.
Fabio Grosso scored the last penalty in the shootout and lifted the trophy with his national team.
Later in his career, he also played for Inter Milan, Lyon and Juventus.
He retired in 2012.
Also read: What to Eat Before Soccer Game?
5. Charlie Austin 
The English striker started playing professional soccer when he joined Watford in 1994 and stayed there until 1997.
After that, he was signed by Sunderland, in 1997 for a fee of £650,000, at that time a member of the First Division ( today's Championship League).
After the second season playing for the Black Cats, they got promoted to the Premier League. He made his PL debut in 1999/00 and scored 30 goals which earned him the European Golden Boot. He was 26 years old, made his Premier League debut, and won the Golden Boot, an amazing story indeed.
He played 208 games for Sunderland and scored 113 goals.
4. Ole Gunnar Solskjaer
The "Babyface assassin," or if you prefer the "super-sub" first played for a 3rd division team in his homeland, Norway. When he turned 21, he signed his first professional contract for another Norweigan team, Molde.
He didn't stay there for a long time, since he was noticed by the people from Old Trafford. Solskjaer joined the Red Devils in 1996, at the age of 23, and stayed there until 2007. For Manchester United, he scored 91 goals in 235 games.
Playing under the command of Sir Alex Ferguson brought Ole lots of trophies. He won 6 Premier Leagues, 2 FA Cups, and the UCL in 1998/99.
3. N'golo Kante
N'Golo Kante started his career at amateur club JS Suresnes and made his professional debut when he was 21 playing for Boulogne. After his team got relegated he decided to find another club since he didn't want to take a step back in his career, so he signed for Caen in 2013.
In 2015 a call came from England, Leicester City was looking for a hardworking defensive midfielder, and N'golo Kante definitely was that.
On August 8th, 2015 he made his Premier League debut against Sunderland. Claudio Ranieri led his squad to lift the Premier League in 2015/16, something no one expected them to do, even the bookmakers gave them the odds 5000/1.
In 2016 he joined Chelsea where he still is playing. With the Blues, Kante won 1 Premier League, 4 FA Cups, 1 Champions League, 1 Europe League, and 1 Uefa Super Cup.
Also read: How the US Began To Embrace Soccer
2. Rickie Lambert
Rickie Lambert, the English forward played for a vast number of English teams, Blackpool, Macclesfield Town, Stockport County, Rochdale, Bristol Rovers, and Southampton. While playing for these clubs, Rickie Lambert didn't get to chance to reach the Premier League.
Until the 2014/15 season, a call from Liverpool came, a team that released him when he was a teenager, but Rickie's love towards the Reds was unquestionable. He signed a two-year contract and played 25 games for Liverpool, scoring 2 goals.
His Premier League debut was on August 17th, 2014.
1. Adil Rami
Adil Rami a robust French central defender first played for a local team from France, ES Frejus . While playing soccer, he had to find a second job and worked as a gardener.
Adil Rami played in the 4th League for 3 years, until he was seen by Lile. He signed his first professional contract when he was 22 years old. In season 2010/11 Lile won the French League.
After leaving Lile, Adil Rami was a member of some world-class teams such as Valencia, Milan, and Sevilla.
In 2015/16 he won the Europa League with Sevilla and was named in the UEFA Europa League Squad of the Season.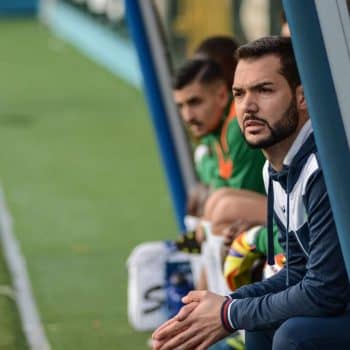 Latest posts by Manuel Esposito
(see all)