When you hear FC Barcelona, names like Messi and Ronaldinho might immediately pop into your mind. But let's not forget the players who've made impactful yet quieter contributions to the club's success. These unsung heroes have also been pivotal in shaping Barça's rich history.
Stick around as we spotlight these lesser-known but equally important talents. And just so you know, our list is in no particular order, but each player has left a lasting impression on the club's legacy.
10. Pedro
Pedro's impact on FC Barcelona is often underappreciated. While he might not have the star power like Messi or Neymar, Pedro's reliable performance was a keystone in keeping Barca at the top.
His nimbleness and strategic mind were invaluable assets on the pitch. Pedro understood his capabilities and utilized them masterfully, offering assists and netting decisive goals when the team needed them the most.
But he was more than just a goal scorer; he was an integral team player who grasped the complexities of soccer well. He meshed well with his teammates, setting up chances for them to find the back of the net. There's no denying that Pedro played a significant role in crafting Barcelona's golden era.
Now, let's turn our attention to another underappreciated gem in Barca's history, Eto'o.
9. Eto'o
Eto'o may not be the first name that comes to mind when considering Barcelona's greatest players, but this truly does him a disservice.
This Cameroonian striker possessed remarkable skills and made significant contributions on the field, which were essential in securing many titles for Barca. His speed was electrifying, his accuracy in front of goal was deadly, and his vision for an assist was unmatched.
Yet, even with his impressive record and being named African Player of the Year twice during his time at Camp Nou, he often found himself overshadowed by more glamorous names.
Eto'o definitely deserves more accolades for his role in one of the most successful eras in Barcelona's history. His influence and impact were far-reaching, often underappreciated, making him an unsung hero of Catalan football.
In essence, Eto'o is under-acknowledged, a hidden gem in the rich tapestry of Barcelona's football legacy. His story serves as a compelling reminder that greatness is not always wrapped in glittering packages.
8. Deco
When it comes to the exhilarating game of football, Deco's exceptional skills and significant input can't be overlooked. Frequently underestimated, this midfield maestro played a key role in the golden age of Barcelona.
He was more than just an adept passer; his creativity, scoring ability, and defensive skills were just as impressive. Deco had an uncanny ability to read the game, always aware of his teammates' positions and how to best leverage them.
What set Deco apart from many players of his time was his adaptability. He may not have garnered as much attention as some of his more flamboyant teammates, but his influence was just as impactful.
In essence, Deco's significant but often overlooked contribution to FC Barcelona deserves more acknowledgment. His subtly effective talent warrants greater recognition.
7. Rafa Marquez
The influence of Rafa Marquez on the sport of soccer should not be underestimated. His defensive skills and leadership abilities were unparalleled. Often acting as the quiet hero, Marquez was a master at stopping opponents' attacks with his strategic knowledge and accurate tackling.
He was not one who sought fame but rather worked quietly to ensure that Barcelona's defense was unassailable.
Marquez's ability to adapt was another of his admirable qualities. He was adept at playing both as a center-back and a defensive midfielder, offering valuable flexibility to Barcelona's team configuration.
His significant contribution to Barcelona is often overshadowed by his more glamorous teammates. However, without Marquez, many victories would not have been achieved.
Continuing our journey through the underrated heroes of Camp Nou, let's shift our focus to Javier Mascherano…
6. Javier Mascherano
Let's examine the career of Javier Mascherano, an Argentine professional footballer whose significant contributions to soccer often go unnoticed. Mascherano is renowned for his tenure at FC Barcelona, where he mainly functioned as a central defender.
His exceptional ability to interpret the game and make critical interceptions set him apart. His defensive prowess was not all he brought to the field, as he also demonstrated a remarkable understanding of when to advance or hold back.
Although not as renowned as some of his teammates, the significance of Mascherano's role should not be understated. He was the binding force that kept Barca's defence intact and provided a platform for their attacking talents to flourish.
Despite being overshadowed by more glamorous names, Mascherano stands as one of Barcelona's most under-appreciated yet essential players.
Looking for more guides & fun facts about Barcelona? You'll love these!
5. David Villa
David Villa is undeniably a standout, with a record as one of Spain's top goal scorers and a crucial role in their 2010 World Cup triumph. However, his tenure at Barcelona is often overshadowed by other big names.
Yet, it's important to remember his pivotal role in clinching the UEFA Champions League title for Barça in 2011 against Manchester United.
Renowned for his accuracy and deadly finishing, Villa added a distinct element to the Catalans' offense. Even when sharing the field with giants like Messi and Iniesta, his impact was undeniable and constant. It's unfortunate that injuries shortened his stint at Camp Nou.
Regardless, David Villa is an underappreciated jewel from Barcelona's rich history who merits more acclaim for his contributions.
4. Victor Valdes
Shifting our gaze now, we must highlight the spectacular career of Victor Valdes as a goalkeeper. Often overshadowed by Barcelona's stellar attacking line-up, he was a key contributor to their triumphs.
With his quick reflexes and reliable handling, Valdes consistently proved himself as one of soccer's most reliable goalkeepers. A testament to his skills are the six La Liga titles, three Champions League trophies, and five Zamora Trophies in his kitty – a record outdone only by Antoni Ramallets.
His commitment to the club is evident in his more than 500 appearances for Barcelona. Now, having celebrated this unsung hero of the goalpost, let's turn our focus to another underrated star in Barcelona's history – Seydou Keita.
3. Seydou Keita
Get ready to learn about Seydou Keita, an unsung hero in the world of soccer. His skills as a midfielder often flew under the radar, but those who truly understood the game knew how vital he was to Barcelona's lineup. Keita's game intelligence and knack for dismantling rival plays were truly unmatched.
Keita didn't chase fame or headlines; he was a consistent source of stability and equilibrium on the pitch. His role was crucial in retaining control of the ball, providing attacking players like Messi and Iniesta the room they needed to make their mark.
Though not a household name, Keita's role was integral to Barcelona's string of victories during their golden age. Without Keita's under-recognized hard work, the team wouldn't have claimed as many trophies. He is truly an underappreciated jewel in the history of soccer!
2. Adriano Correia
Let's now dig deeper into the career of Adriano Correia, an often underappreciated gem in the sphere of soccer. Adriano Correia, a Brazil native, brought a unique versatility to Barcelona unmatched by any other player.
He was the ultimate utility player, filling gaps in defense or midfield with skill and ease, often proving to be a vital pivot in the game.
He had a spectacular knack for scoring long-range goals – a skill that won him respect from his opponents and admiration from his fans.
Even though he wasn't always a regular starter, he proved to be a valuable player during his time at Barca. His contributions may not have always been front-page news, but they were key to their victories.
Adriano Correia might not have had the spark and flash of some of his teammates, but his significance to Barcelona should never be underestimated. He truly exemplifies what it means to be an underrated player.
1. Ivan Rakitić
Ivan Rakitić has built a remarkable career through his consistent performance, proving his value as a trusted midfielder. He has been the backbone of Barcelona, bringing balance to the team with his relentless energy.
But Rakitić is not just about persistence and hard work; he has a knack for crucial passes, often piercing through defenses with his exact distribution.
His influence, however, is frequently overlooked due to the standout performances of his more flamboyant teammates.
But don't get it twisted. His input has been critical to preserving Barca's superiority over the years. While he may not be the one to constantly grace the headlines, those with a deep understanding of soccer value Rakitić for what he truly is – a steadfast guardian of Barcelona's midfield who hardly ever makes a mistake.
This is the tale of an unsung hero, a player whose impact is often veiled by the glitz and glamour of his star-studded colleagues.
But those in the know, those with a genuine love for the beautiful game, they recognize the immense value he brings to the pitch. Ivan Rakitić, the silent guardian of Barcelona's midfield, the one who keeps the gears of the team turning smoothly.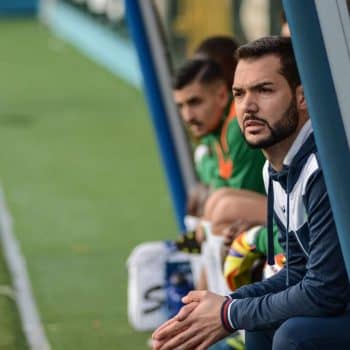 Latest posts by Manuel Esposito
(see all)