Confidence is a fragile thing.
You can be riding the crest of a wave in one instant, enjoying the endorphins of a victory.
Then in seconds, you can be wallowing in self-doubt and worry.
For everyone, it is different. Some can shrug off the slings and arrows of bad fortune easily and stay on a direction towards success.
Others? The merest bump in the road can send them careering off into the distance.
In soccer, this is no different. But how can you maintain that feeling of euphoria, that essence of self-assurance that you have it in your power to rectify any misfortune?
Cultivating confidence – the professionals
For professional soccer players, they have the ideal setup. There are player liaison staff that are on hand to take care of any problems the player may have. The agents of these players have a big role to play too.
An agent is responsible for ensuring their client is being renumerated appropriately for their excellent services. They enter negotiations with the club and they aim for the best contract available. That sometimes means another club entirely.
The other part is to make sure their client is at the top of their game and has everything they need to stay at the top – and make sure that the agent bonus that is awarded is as fat as can be.
Then you get to the coaches.
A comforting arm? Or a drill sergeant?
Coaches have had to change immeasurably in the last two decades, as superstars are born and burn brighter than ever before. These egos are hard to manage and if a coach has a specific setup, they will need that superstar to perform those tasks.
And it could mean that it doesn't play to the players strengths. Or simply, the player might just not agree that the coach's way of doing things is the right way.
In the past, a coach would expect the same level of commitment from every player. And the same level of desire and intensity.
Now though, they are expected to make sure the highest paid players are happy and firing on all cylinders. The coach is sometimes not the priority for a club board. In the cases of the super-rich, it is the megastar players that generate millions in shirt sales that are just as important.
The majority of players are expected to tow the same line as everyone else. No matter if they are the highest earners or not, the greater good is always the priority.
And for most, the team results have a significant impact on confidence.
Also read: What Does 'Sacked' Mean in Soccer?
No 1 in team
If a team is dwelling in the lower reaches of the league, or haven't lifted any silverware, then players will suffer a dip in confidence. It is inevitable. Taking loss after loss will send messages to the players brain that they aren't good enough for this level. Poor results are not good for confidence.
The same goes for losing a single game, but when that game is a decisive match, this can knock a player for six.
Say a player takes part in a cup final, or loses a game that means they miss out on a title? The after effects of such a cataclysmic loss can reverberate around a players' psyche for a while. It will affect future performances – how many is down to a players' mental strength and how supportive their network is that surrounds them.
If a player joins a club that regularly battles for silverware? That is constantly in contention for glory? Even if they have a damaging loss or a string of poor performances, they will always have the next game to right a wrong with a win.
Confidence levels matter more for different types of players too.
Take strikers.
Back of the net
Talking of the confidence level of a professional soccer player happens every week with experts. And invariably, it involves strikers.
They are the players who are in the team to score goals. They have the second-most singular responsibility, after a goalkeeper, in the entire roster.
So when the goals dry up, most strikers have a crisis of confidence.
Only the most elite of strikers don't suffer from blips in netting goals. For the majority, strikers will enjoy purple spells and dips where they would buy a goal if they could.
And a lot of experts talk of a striker taking any kind of goal that they could grab. Even if it deflected off their left butt-cheek, as long as it counted as their goal, normally it is enough to rid the player of their slump, the monkey off their back etc.
And a longer slump can be very damaging, sometimes even changing the player permanently in rare cases.
Strikers chasing their former selves
The likes of Fernando Torres and Alexis Sanchez at one point were two of the most lethal players in the Premier League. Torres at Liverpool for about three years was firing in goals from every angle and enjoying hatfuls of goals.
Cue a transfer to Chelsea for a large price tag and Torres was unable to recapture the form which made him one of the most feared players in Europe. The touch at times was still there, but his clinical finishing had disappeared. There were moments – his goal in the semi-final of the Champions League was a highlight – but for the majority of his time with the Blues, he was a shadow of his former self.
The same goes for Alexis Sanchez. The Chilean was dangerous at Barcelona and a move to Arsenal followed. For three seasons, Alexis registered goals and assists for fun. He at times kept Arsenal afloat in the Premier League.
The Chilean became disenchanted with his time in London. He angled for a move away and signed for Manchester United. His time at Old Trafford was a disaster and he was even quoted as asking his agent for a return to Arsenal. This didn't materialize and he escaped Manchester to go to Italy with Inter Milan. There have been highlights – Alexis has won Serie A – but the South American has been nowhere near the goal-getter he was in London.
Confidence is fragile and the loss of it was the chief reason why the two players above never scaled the heights they had done so previously. While a striker relies on it to stay prolific, all players need a steady supply of confidence to ensure they make the most of their talent.
The best way to stay confident in soccer?
Also read: Soccer Extra Time – Explained
Some tips for confidence in soccer
A supportive coach who is attentive to your style of play and what you need to achieve your best results. This coach will also be the person who can see the weaknesses in your game and has the experience to be able to identify what can take you to the next level.
You will need a good team. Players who will lift you if you miss a penalty, will defend you when the chips are down. Much like school and a job – your team are pivotal to your success. Not many people can reach the top without people pushing you up.
Then you need to win. Win often. Confidence is built, not found. Winning tells your brain that you're doing the right thing. No one is impervious to self-doubt. Your consciousness is your biggest critic and can be your loudest cheerleader. Self-affirming what you're doing is the correct thing can dispel any negativity you might have gathering in your mind.
Lastly, have conviction.
Also read: How To Deflate A Soccer Ball Without A Needle
Go full throttle, dispel the doubt
Soccer is a game of milliseconds. Miss out on winning the ball in a tackle or failing to test the goalkeeper with a good chance on goal can happen if you let the doubts creep in.
Soccer demands full conviction. You'll need to run as hard as you can to reach that loose ball. You will need to clear your mind and concentrate to arm yourself in the right way when the chances come. A goalkeeper can react quicker if they are confident. A striker will take their chances more effectively if they are confident. And a midfielder will win the ball more often and find the target with his passing if they are confident.
Confidence matters in a big way. For something that is intangible, it is surprising that it can mean the difference between victory and defeat.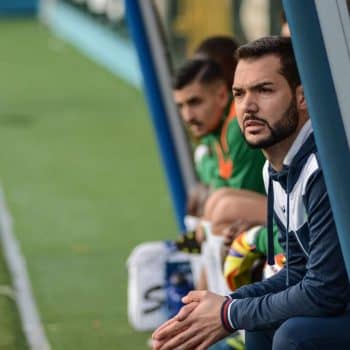 Latest posts by Manuel Esposito
(see all)