It doesn't matter which sport you enjoy, the heated debate about who the greatest players are, is always guaranteed to heat up even the coldest of conversations.
And soccer has plenty of candidates for the title of the greatest player ever.
But one name has stood up to the test of time. No matter how many years pass, his name has always been one of the first on every person's mind.
And Pele certainly warrants the consideration.
Pele, born as Edson Arandes de Nascimento, began his playing career as an earnest 15 year old at his hometown club, Santos, in Brazil. Let's lay the facts out so you can clearly see why Pele is widely considered the greatest player to grace a soccer pitch.
He played 700 senior domestic games for two clubs – Santos in Brazil and the New York Cosmos in the USA. In those 700 games, Pele scored a staggering 655 goals.
At international level is where Pele truly grabbed the world's attention though. He began playing for Brazil back in 1957 and continued to play in the famous brilliant yellow and blue shirt up until 1971. He amassed 92 appearances for his homeland and grabbed 77 goals in those games.
And his goals for his national side fired him to three World Cup wins, in 1958, 1962 and 1970. He is still the only player to have won three World Cups.
So, a goal ratio that almost matches a goal every game, spread out over twenty years. Three World Cup winners medals. And then you get to personal honours.
Pele won the coveted Ballon D'Or seven times. This award is given by the French football federation to a player voted by his colleagues as the best player in the world.
Pele also won FIFA World Player of the Century – that should settle the argument, right?
Not quite.
It was widely considered that there were two players who had a right to be called the Greatest Player in the World. Both Pele and Diego Maradona did things that grabbed the world's attention. Maradona almost single-handedly dragged Argentina to two World Cup wins. He had what most would agree as the most natural talent ever seen from a soccer player.
But consistent brilliance is what Pele managed. Every season he bagged an incredible amount of goals. He won domestic trophies like they went out of fashion, many titles won for Santos and New York Cosmos as well as domestic cups.
Those two couldn't be separated by many experts around the world. 
Also read: How the US Began To Embrace Soccer
Diego, Cristiano, Lionel, and Pele – Tale of the tape
But the introduction and continued excellence of both Cristiano Ronaldo and Lionel Messi has upset that convention.
Now, there are four players who are well within their rights to claim the title.
But it all depends on the variables.
International honours seem to carry a lot of weight – Pele won the most World Cups. Maradona won two. Ronaldo has won a European Championships with Portugal. Leo Messi has won the Copa America with Argentina.
Plying your trade for your country is the biggest stage after all. So it is easy to see the disparity between the players international honours as a good reason to make a quick decision.
But there's more.
Let's look at goal records.
Maradona had 259 goals in 491 domestic games, spread over leagues in Argentina, Spain and Italy. For his country, he averaged a goal every three games.
Messi, his compatriot? 564 games and counting domestically, scoring 486 goals. For his country? Around one goal in every two games.
Let's look at Ronaldo. For the clubs he has represented, he has played 631 games, spanning Portugal, England, Spain and Italy. Ronaldo has scored 484 goals. For Portugal? 115 in 184 games.
So Pele, Ronaldo and Messi have the edge in terms of goals over Maradona, but not by much.
But those in support of Diego as being the greatest soccer player of all time will summon memories of when the little Argentinean scored goals that had been almost crafted perfectly. Legs in a blur, opponents unable to touch him as he danced around them with ease, before scoring the goal that will win the game.
And in that regard, they are all equal.
Just look on YouTube and search for 'greatest goals scored by Messi/Ronaldo, and you will see a slideshow of soccer highlights to blow your mind.
And Pele was no different again. The Brazilian could capture inspiration and leave fans on the edge of their seats, stopping breaths before they leave mouths. Some of his goals at the World Cups between 1958 and 1970 were incredible, combining strength, composure, a controlled touch and finish that would deceive any goalkeeper.
Also read: Best Soccer Formations
Has Soccer Changed Much? Is Comparison Flawed?
Some will say that soccer has changed since Pele and Maradona played, that the game is tougher now. And physically, there's an element of truth to this. Soccer players are more like finely-tuned Formula One cars now. Carefully selected diets, a raft of fitness experts monitoring every aspect of a players movement, fitness, cardio strength – everything. Muscles have changed too, from sheer strength to developing fast-twitch fibres to enhance that explosive speed that the modern game of soccer depends on.
Could Pele and Maradona excel in these different demands? Impossible to say, but what is possible is that both the Brazilian and Argentinean catapulted the game of soccer into everyone's conscious.
There's others too that deserve a mention when it comes to impacting the world with soccer.
Also read: What to Eat Before Soccer Game?
Other Contenders
Johan Cruyff of the Netherlands came mightily close to winning the World Cup on two occasions in the 70s – but it was HOW that team got there that transformed the game of soccer. It was developed by national coach Rinus Michels and it was Johan Cruyff that was the player who ensured these instructions were carried out.
The type of soccer was called 'Total Football' and it meant that this golden generation of Dutch footballers swept away most of the world with their brand of soccer. It was dramatic, it was attacking – it led to a surge in attendances in the stands.
Then you have the French maestro, Zinedine Zidane. Were it not for the French talisman, they would not have won their first ever World Cup in 1998, in Paris. Two years later, Zidane was again the muse as France lifted the European Championship.
Some will say his sending off in the World Cup final of 2006 overshadows some of his wonderful exploits on the pitch – but that would be unfair. Zidane grabbed whatever team he played for by the scruff of the neck and demanded they raise their game to his own. Spectacular goals (look up his Champions League winner versus Bayer Leverkusen) and big performances mean that Zidane will always be in the conversation.
Then you have Marco Van Basten, Ruud Gullit, Bobby Moore, Gerd Muller, Franz Beckenbauer, Paolo Maldini – the list is a long one.
But what separates the great from the immortal?
It appears to be the ability to maintain excellence over a period of time, both internationally and domestically. And Ronaldo, Messi and Maradona can all stand tall in this regard.
And Pele? That means he may still stand top of the pile.
And if there's a tie breaker? If you truly cannot separate the four players – or six if you include Cruyff and Zidane?
Then the world's biggest sporting competition is a very good way to do so.
And standing alone with three Jules Rimet trophies (the name of the trophy is by the man who designed the trophy) is Pele.
Even after nearly 65 years from when his career first started at Santos as a teenager, Pele's light hasn't dimmed. Pele's achievements, both personal and collaborative with his teams, truly contrast brilliantly with anyone who dares challenge him as the World's greatest.
Goals galore for twenty years. Three times a world champion. For most people – Pele IS soccer.
And he definitely has the crown in most people's opinion.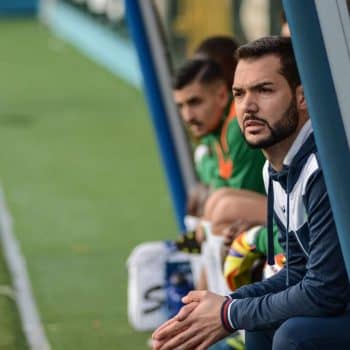 Latest posts by Manuel Esposito
(see all)