Let's cut to the chase – Lionel Messi is a phenomenon.
With the impact he has had on soccer, every moment should be classed as either BM or AM – Before Messi and After Messi.
The little Argentinean has rewritten what people thought was possible. And now his brilliance is simply expected. A shedload of goals and divine inspiration every time he takes to the soccer pitch – that is what fans want to see. What they expect.
That is the Lionel Messi effect.
And this blog will look at every aspect of the South American soccer superhero and try to understand what makes Messi so good – and if there is a weakness to his game that hasn't been seen before.
For example, a number of soccer players are often let down by a problem with their temper – does Lionel Messi have issues with red mist?
Or does Messi struggle playing away from home? Some soccer players hit the back of the net with more frequency when surrounded by their home fans – is that the case for Messi?
So, let's get started. And the best way to do that is look at what Messi has achieved in the game so far.
Crunching the Numbers
According to the stats, Lionel Messi, since making his debut back in October 04, has played 797 professional soccer matches. In that time, he has bagged a breath-taking 679 goals. That is a ratio of a goal in every 1.1 matches. Then you take into consideration the amount of assists he has contributed. 310, to be precise, and counting.
That leaves Messi on 989 goals and assists in just 797 matches. That's a mind-boggling goal or assist every 0.8 matches.
That means that you can expect a game-changing event from the Argentinean every game. Most likely two.
No other player comes remotely close to these figures – bar the other players Messi contends with for the title of 'The Greatest Soccer Player Ever' category. A conversation heard in every country, it is reserved for just four players – Diego Maradona, Pele, Messi and the player that has been his greatest adversary and perhaps his muse, Cristiano Ronaldo.
Ronaldo and Messi has been probably the biggest catalyst for both players to achieve the mountains of success and staggering stats. From the moment Ronaldo joined Real Madrid in 2009, both players set their targets to best the other, both in trophies and for the right to call themselves the best.
And both of them did a darn good job.
Also read: Why do Soccer Players Suck Their Thumbs?
Messi Vs Ronaldo – A Tale for Every Soccer Fan
From 2009 to the present day, there has only been one man who has interrupted the Ronaldo, Messi duopoly on the Ballon D'or trophy. Ronaldo's Real Madrid teammate, Luka Modric.
And Ronaldo has grabbed five of the golden ball trophies, with Messi claiming seven.
Next, let's look at European Cups. Messi has won four overall with Barcelona. Ronaldo has lifted five European Cups, one with current club Manchester United and four with Real Madrid.
What's left? A direct comparison on goals and assists.
Ronaldo has played 920 professional soccer matches and scored 688 goals, with 232 assists – and still going.
That gives him a ratio of exactly 1. That's incredible for such a long career too.
So it means both players are so incredibly close to each other. They have pushed each other and they have been what has really driven each other to success. Arguably, would Messi or Ronaldo have won what they have, or scored what they have done, without each other?
It's a fair point to raise.
Ice in the veins – Who Has the Most Red Cards?
But going back to a previous part of the article – do either have the edge when it comes to keeping their cool?
And Lionel Messi seemingly does. Messi has received just one red card in his club career, with two red cards for his country. Whereas Ronaldo has been given his marching orders eleven times in his career. So in the case of composure under fire, perhaps Messi does have something over his great rival.
But it doesn't mean Messi is a saint. Messi has got a small streak of lava in his veins.
Let's look at one of his red cards. The only one he has been given for Barcelona.
Also read: What is a CDM in soccer?
In the Heat of The Moment
It was the Super Cup Final, versus fellow Spaniards Atletic Club de Bilbao. The match was in extra time. The seconds were running out for Messi's side and Messi himself? He had suffered a pretty frustrating 90 or so minutes. And it all appeared to get too much for the number ten. On video review, Messi looked to have lashed out by raising an arm to a Bilbao defender. The arm struck the defenders head and upon video review, Messi was given his red card – and that was the end of Barcelona's hopes of winning the trophy.
Messi isn't infallible, but it seems that way when looking at his career. He can be wound up.
But in terms of having a reservoir of patience? Messi's would seem to be acres deep.
Why is Messi so Good?
Because anyone who has seen Messi in a full soccer match? They will see the amount of times Messi is chopped down, hacked at and generally fouled. It is understandable. It is sometimes the only method defenders have of stopping the mercurial attacker in his tracks. Messi has the ability to carry the ball at speed and still under close control. He can change directions in a blur. It means if a defender is facing him, then they will have very little chance of stopping him.
And that also leads to plenty of fouls on Messi.
A Marked Man
And for a player who is stopped in his tracks illegally nearly every time he has the ball? For a player who has been sent off only three times, it shows Messi has ice in his veins.
Messi has scored in tournament finals, fiercely contested derbies, top fo the table clashes, European crunch games – every conceivable opportunity to feel huge pressure. And he has delivered. When the big occasion comes, Messi doesn't let the constant fouling nor the occasion or a partisan audience affect him in any way.
And it is why a lot of people think Messi is the greatest there has ever been.
And they would have a fair argument.
Also read: Famous Soccer Players Who Started Playing Late
A Good Head on his Shoulders
Messi has registered around 5% of his goals with his head. Not a huge amount, sure. But this can be attributed to the style of play he encourages and has played in for club and country. It is possession-based. It is through the centre of the soccer pitch. It is not set up to deliver crosses from wide positions and for attackers to aerially attack the ball.
And this is further backed up by Messi's contribution in the Champions League final of 2009. Against Manchester United, his header confirmed the destination of that years trophy. It finished 2-0 to Barcelona, but his header was replayed around the world as he leapt high to meet the cross from midfielder Xavi and send the ball back towards the corner, deceiving United goalkeeper Edwin Van Der Sar.
It had technique. It had composure, and it showed Messi is aerially every bit as dangerous when necessary.
It is just that dancing around defenders is much more fun for him, I suspect.
Messi is now at Paris Saint Germain in France after Barca were forced to sell their adopted son due to financial struggles. And while it has taken Messi a while to get back into the groove, there are warning signs that he is getting back to his world-dominating best.
And with no discernible weaknesses in his game, that is bad news for everybody else.
Messi deserves every bit of praise he gets. The man truly is a soccer phenomenon.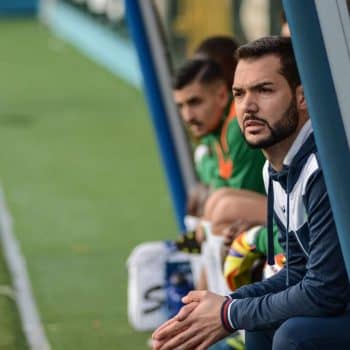 Latest posts by Manuel Esposito
(see all)