When keeping time can mean the difference between victory and defeat, you had better ensure you get it right.
There's no room for error when you are a soccer referee. Or any type of match official really. Whether it be the man in black and white for football, soccer, basketball, baseball, hockey, lacrosse – the pressure is on that one person to make the right call.
At the right time.
And if they don't? Well, do we know of any other person in sport that gets more abuse than the match referee at times?
We all take sport a little seriously in some form. If we're fans, we get carried away with the fervour and tribalism. If we play it, sometimes the red mist descends or you experience a competitive high that is difficult to replicate.
As a referee though? It's certainly an acquired taste.
They are responsible for upholding the rules and regulations of the game. Even if that makes them the most unpopular person amongst tens of thousands of people. And in soccer, the match referee has the spotlight on them more than most sports.
For they have the power to change the game with one blow of a whistle. And while that is the same for a referee in any sport, the difference is that in soccer – they are regularly required to do just that.
And when they get it wrong?
Well, it happens far too often.
Just take the recent match in the African Cup of Nations, where the match referee blew his whistle for the end of the game.
Before the game was meant to finish
Mistakes of this nature are, thankfully, rare. Mistaken penalties? A red card when there was no contact? Sure, it happens every week in Europe, the MLS and beyond.
But when it comes to keeping time? The humble soccer referee normally has this tied down firmly.
A soccer game can be decided in seconds. Championships can change hands in those precious grains of time.
Just look at the outcome of the final game of the English League title in 1989. Arsenal needed to beat current champions Liverpool, at their ground, by two clear goals. Going into added time, Arsenal were a goal up. In the final throes of the game, Arsenal mounted an attack and got the vital goal to lift the title.
Check out the drama here – https://youtu.be/kseqTmNCr4o
It happened again in 2012, with Manchester City winning their first ever Premier League title with the last kick of the game, dramatically snatching the Championship away from their more illustrious neighbours, Manchester United
Take a look here
Hopefully, this highlights to you how critical the timekeeping of a game is. Stoppages for fouls, goal kicks? They all add up, and the ability of a match referee to keep stock of all incidents and ensure the full 90 minutes of a game takes place is perhaps the most important part of their role.
Don't worry though. We are here to help you if you're looking for the perfect way to account for every second in the game. We've trawled the web for the best referee timepieces, so you don't have to.
We've taken into account the ability to stop and restart the clock on the move, clarity of display and much more. And what we've come up with is a list of watches that allow referees to act as an able assistant to Father Time.
Here we are, the best referee watches available right now.
Casio W800H-1AV
The Casio keeps you in budget as well as in time. It comes in at around $25 on Amazon, hardly a budget-breaker.
And it packs in the features so you get plenty for your purchase.
Water resistant. Sports strap. Durability. Battery life of ten years. Key to this watch though, is the button setup. Four buttons give you plenty of options and once you are up to speed with how it works, you can understand the presets and keep time ticking. The display is very clear too. You can't really go wrong with this one. Perhaps a one-button set-up for stop-starting the ticking time would be a better feature, but once you can get to grips with the watch and its interface, this will keep time with the best of them – even if you're on the run.
ZEWIK MEN TF7301
This watch has a much clearer display than the Casio. It also has a killer option for soccer referees – there is an option dedicated to soccer games where you can keep stock of any additional time that needs to be added on – a game changer for referees.
The PVC casing is comfortable, the rubber strap is adjustable, the icons on the display are easy to distinguish, even in the rain. And the positions of the buttons on each corner of the display make this easy to control even when you're running. Ideal for referees, but this watch is pretty difficult to find online.
Champion Sports and Referee Watch
Another watch with an adjustable rubber strap and water resistance as standard. This display isn't quite as clear as the previous entrant, but it is still pretty easy to read.
The manufacturer of this watch comes with a decent reputation and with this watch, this is certainly maintained. It has all the standard features, but this watch splits features, so that only one is on screen at a time – crucial for a referee on the move. It has a light feature should the display be difficult to decipher and this watch comes with a vibration function – just in case you can't hear the alarm go off at full time.
Lastly, this is easy to set up and use from the moment you unbox it. Just strap it on and away you go.
Amazingly, this watch can be bought on Amazon for around $25.
Ultrak Soccer and Referee's Watch
Standard features aside – rubber comfort strap, stopwatch function, water resistance – this watch doesn't look as professional as the others. And perhaps that is the silver face that surrounds the smaller display on this watch.
But it's still a contender.
It has a soccer timer with the stoppage, a secondary count up timer, and a programmable countdown timer. There is also a lithium battery and a convenient electro-luminescent backlight display to back up that smaller display.
The secondary timer is handy to track stoppage time, such as substitutions, injured players, controversial plays, or even VAR analysis. So it is ideal for soccer referees keeping track of the game.
The watch is light and has as many features as you could want for a watch. It's a bit more expensive than the rest but it still won't break the bank.
CakCity 1068 Men's Digital Sports Watch
This watch boasts probably the best display in the list, with a luminescent, backlit screen and decent size making this super easy to read. The resin casing make this extra durable too, like the Casio, and it is shock-resistant to boot. So even if a referee takes a tumble, the precious sands of time won't be affected.
And how does it help you keep the time?
Precisely.
It doesn't have a specific setting for soccer referees, but it has the usual countdown and stopwatch functions, alarms and ability to make sure no time escapes. This watch has a focus on durability though – and sometimes that makes watches a little uncomfortable. But this watch meets you in the middle and allows plenty of movement. This one is a contender for sure – especially if you plan to officiate plenty of matches in the rain!
There are others to watch out for though – excuse the pun – but it all depends what matters to you most. All of the above watches will certainly help you keep hold of every second in a game though.
Now you've chosen a watch, what are you waiting for?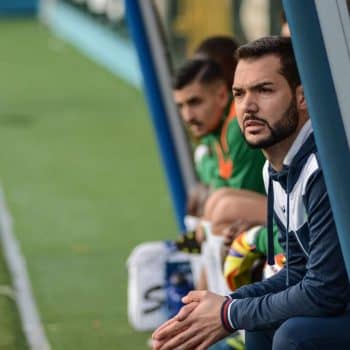 Latest posts by Manuel Esposito
(see all)