Think the A-League is all about homegrown heroes? Time for a reality check! This league has been graced by international stars who've dazzled us with their skills.
From Argentine playmakers to Brazilian goal machines, we've compiled a list of the top 10 foreign players who've made their mark in the A-League. And guess what? The list is in no specific order, so every moment is a surprise. Intrigued? You'll want to keep reading.
10. David Villa
David Villa's brief tenure in the A-League was transformative. Many regard him as one of the finest foreign players to have played in the league.
His superb technical skills propelled Melbourne City FC from being underdogs to serious title contenders. Displaying phenomenal ball control and precision in goal scoring, Villa managed to score twice in just four games.
Villa's influence extended beyond scoring goals; he demonstrated leadership both on and off the field. He set high standards for his teammates through his impressive work ethic and professionalism.
His involvement also brought international spotlight to the A-League, significantly enhancing its global reputation.
Even though his time in Australia was short, Villa's impact on the country's soccer scene was profound. His performance was a testament to the kind of quality and excitement that top-tier talent can inject into the sport.
9. Marcelo Carrusca
Marcelo Carrusca, an Argentine soccer player, has made a significant mark in the A-League. Known for his outstanding ball control and precision passing, Carrusca has become a crucial player in Australia's premier soccer league.
But his style is complemented by substance. His time at Adelaide United showcased his consistent performances, which were key in propelling the team to numerous wins.
Carrusca's knack for keeping possession under strain and supplying accurate crosses has distinguished him from many players.
His ability to change the direction of the game with ease made him a persistent menace to opposition defenses.
Carrusca also had a potent shot, scoring vital goals at critical times. This fusion of technical skill and offensive power lands him a well-deserved spot amongst A-League's top foreign imports.
8. Bobô
Bobô is surely a name you've come across if you follow the A-League. Hailing from Brazil, this extraordinary forward is admired for his powerful physicality and flawless finishing abilities.
He's a natural at finding the back of the net, with a record of 58 goals in a span of three seasons with Sydney FC. But his skill set isn't confined to just goal-scoring.
He also shines in setting up strategic plays for his teammates, reflecting his deep grasp of team dynamics. Bobô is also a role model off the pitch, inspiring young talents to strive for excellence.
While some may critique him for his speed, there's no refuting that his influence on the A-League has been substantial.
Now let's turn our focus to Carlos Hernandez, another international player who has left an indelible mark on the A-League.
7. Carlos Hernandez
Hailing from Costa Rica, the significance of Carlos Hernandez's influence on the A-League is undeniable.
His technical prowess and knack for scoring goals elevated the level of Melbourne Victory's midfield. A player of importance, Hernandez was always ready to step up during pivotal moments.
His long-distance shooting skills were a cause for concern for many goalkeepers, and his exceptional vision and passing skills made him an indispensable playmaker.
Hernandez was often the game-changer, capable of taking control of a game singlehandedly. There were instances where he would gain control deep within his own half and initiate counterattacks that left the opposition baffled.
His consistent performance, coupled with his ability to perform under pressure, resulted in him being awarded the Johnny Warren Medal in 2010 as the league's top performer. Carlos Hernandez undeniably marked a significant period in the history of Australian football.
6. Diego Castro
Now, let's talk about Diego Castro and his remarkable influence on the A-League since he became part of Perth Glory.
This Spanish forward has shown himself to be an indomitable force on the field, playing a pivotal role in the team's attacking strategies.
His exceptional skills in dribbling, his ability to make decisive passes and his propensity for scoring goals have turned him into a formidable opponent for any defender.
With more than 40 goals to his name for Perth Glory, the value Castro brings to the team is hard to dispute. He has certainly earned his place as one of the most consistent players in the league and continues to exert a considerable influence during matches.
Now, as we proceed to discuss the top foreign players in A-league history, we'll shift focus to Miloš Ninković.
5. Miloš Ninković
Miloš Ninković has made an indelible mark at Sydney FC, thanks to his stellar performances that have been pivotal in the club's triumphs.
Since donning the sky blue jersey in 2015, he has been an influential figure on the pitch. The Serbian midfielder's exceptional skills and strategic vision have played a crucial role in the team's numerous victories.
But Ninković isn't just a midfield maestro; he has a knack for finding the net in critical moments. His command over the pace of the game and ability to swing tight matches in his team's favor makes him a standout player in the A-League.
Prior to his Australian adventure, he honed his skills in the competitive football arenas of Europe, bringing a wealth of experience to the table.
Even in his mid-thirties, Ninković's performance shows no signs of waning. His consistency, agility, and technical skills light up the field every time he plays, marking him as one of the most impressive foreign players to ever grace the A-League.
4. Bruno Fornaroli
Chances are, you've heard of Bruno Fornaroli, one of the A-League's standout players celebrated for his remarkable scoring skills.
This Uruguayan professional has maintained a commendable consistency since his 2015 affiliation with Melbourne City. His scoring abilities make him a unique asset, earning him comparisons to a sniper for his precision.
Fornaroli's knack for converting opportunities into goals is worth noting. His skill set extends beyond scoring goals; he also excels at creating opportunities for his teammates.
This demonstrates a deep understanding of the game that transcends individual achievements, making him a valued team player.
His versatility on the field, combined with his superb ball control and agility, make him a tough adversary for any team.
Bruno's playing style is a blend of raw energy and tactical intelligence, contributing to his reputation as one of the most impressive foreign players in the A-League.
3. Alessandro Del Piero
When discussing A-League's prominent figures, it's essential to mention Alessandro Del Piero. The Italian superstar's influence on the game has been truly exceptional.
He adorned Sydney FC with his skill and talent from 2012 to 2014, bringing with him an abundance of international experience.
His insightful game interpretation and unique skill set made him an indispensable part of the team, not merely as a goal scorer but also as a strategic playmaker.
Even in the later years of his career during his tenure in Australia, Del Piero maintained a remarkable level of performance, consistently delivering breathtaking displays. His role in elevating A-League's reputation is irrefutable.
Now that we've celebrated Del Piero's exceptional talent, let's turn our attention to another remarkable player – Thomas Broich.
2. Thomas Broich
Let's now turn our attention to Thomas Broich, a remarkable figure in the A-League, whose extraordinary skills have etched a permanent place for him in the annals of Australian soccer.
Hailing from Germany, Broich is celebrated for his remarkable ball manipulation and keen football insight.
He has made his mark playing for Brisbane Roar, renowned for his goal-creating abilities, either through his own strikes or by setting up his team members.
His technical prowess is beyond compare and his uncanny ability to read the game truly sets him apart.
His contribution to the sport was so profound that he was awarded not one, but two Johnny Warren Medals, cementing his status as one of the most valuable foreign players to grace the A-League.
Broich was more than just a player; he was an inspiration, raising the bar for those around him with his fervor and commitment to the sport.
1. Besart Berisha
Switching gears from Thomas Broich's remarkable influence on the A-League, let's move our attention to another notable foreign player, Besart Berisha.
Originating from Kosovo, Berisha's illustrious soccer career has spanned across various top-tier European leagues before he etched his name in Australian football.
Since joining Brisbane Roar in 2011, Berisha has proven his worth time and again, playing a pivotal role in the A-League.
Berisha's sharp shooting skills and aggressive playing style quickly resonated with fans, making him a household name.
His goal-scoring prowess is nothing short of impressive, having netted over 120 (132 to be precise) goals during his tenure with Brisbane Roar and Melbourne Victory.
This achievement crowns him as the league's all-time leading scorer, a clear indication of Berisha's exceptional talent and the significant imprint he has left on Australian football.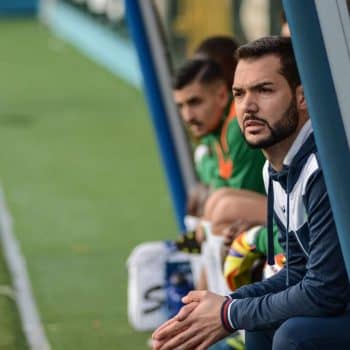 Latest posts by Manuel Esposito
(see all)